God has opened a tremendous door of opportunity for us in the nation of Sierra Leone! Souls are coming to Christ, lives are being transformed, and God's love is touching the poor as Agape Gospel Mission launches our newest church in the capital city of Freetown.
The need is great. For decades, Sierra Leone has suffered from political and social crises. Instability in the government led to years of a horrendous civil war, economic stagnation, and social collapse. Then from 2014-2016, the country was the epicenter of the Ebola pandemic which struck West Africa. Thousands lost their lives to the disease due to poverty and the absence of adequate healthcare.
Additionally, Sierra Leone has a majority Muslim population – over 75% of the people are Muslims. There are millions of people in this country who have never heard the Gospel of Jesus Christ. Yet amazingly, there is the freedom to preach the Gospel and evangelize the lost!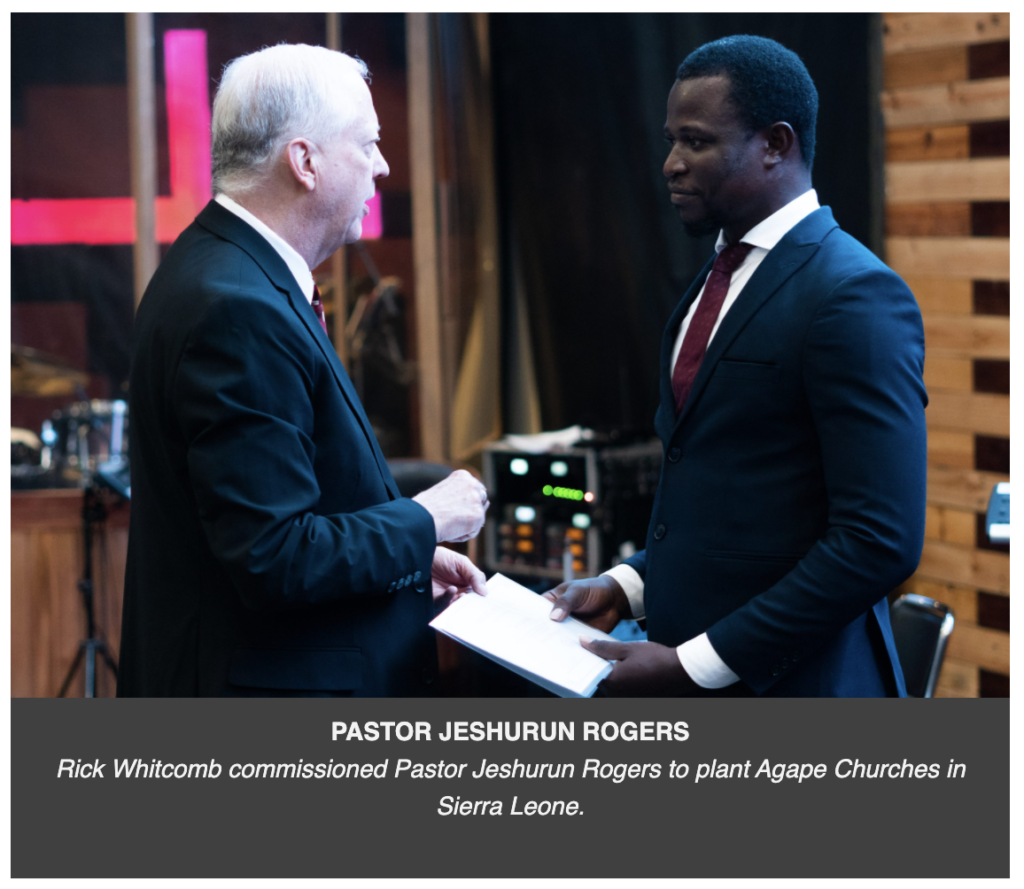 AGM has trained and commissioned a native Leonean, Pastor Jeshurun Rogers, to launch the Agape Church. Jeshurun was raised a Muslim but gave his life to Christ as a young man. He and his wife have answered the call to raise disciples for the Lord in the capital city, Freetown.
After training with AGM in Ghana, Pastor JR returned to Sierra Leone in August to launch the Agape Church. He began by holding small group meetings in a tailor's shop. Soon, 50 people were gathering several times a week for prayer, Bible study, and fellowship. A second small group was launched as people gave their lives to Christ and began to follow Him.
AGAPE CHURCH FREETOWN
Now, it's time to take the Agape Church to the next level. We've rented a meeting hall, we're purchasing chairs and equipment, and we're preparing for a large outdoor evangelism event. From November 15 to 19, we'll be preaching the Gospel in a large Muslim community, and helping people find Jesus. Then, on Sunday November 21, we'll officially launch our Agape Church.
We believe God is going to do amazing things through our church plant in Freetown! Please join us in this vital ministry by praying for Pastor JR and the Agape Church. Ask the Lord to bring many people to the outreach, and most importantly to bring them to the saving knowledge of our Lord.
And as you pray with us, please also partner with us. Your donation today to support Pastor JR and our Agape Church in Freetown is vital for this work to move forward. Our budget for the church launch is $20,000. This will enable us to pay for the chairs, the sound system, and the equipment we need to make the greatest impact in our outreach. Your gift today will be used by God to spread the Gospel and win the lost. If you'd like to see the specific list of our needs and their costs, just follow this link:
You can give today to support Pastor JR and the Agape Church in Freetown by clicking this link:
As we enter the giving season, we ask for your special support for Agape Gospel Mission. Together, we are evangelizing the lost, empowering the church, and embracing the poor. With God's power, and your partnership, the best is yet to come!
Yours for the Cause that Counts,
Rick and Donna Whitcomb